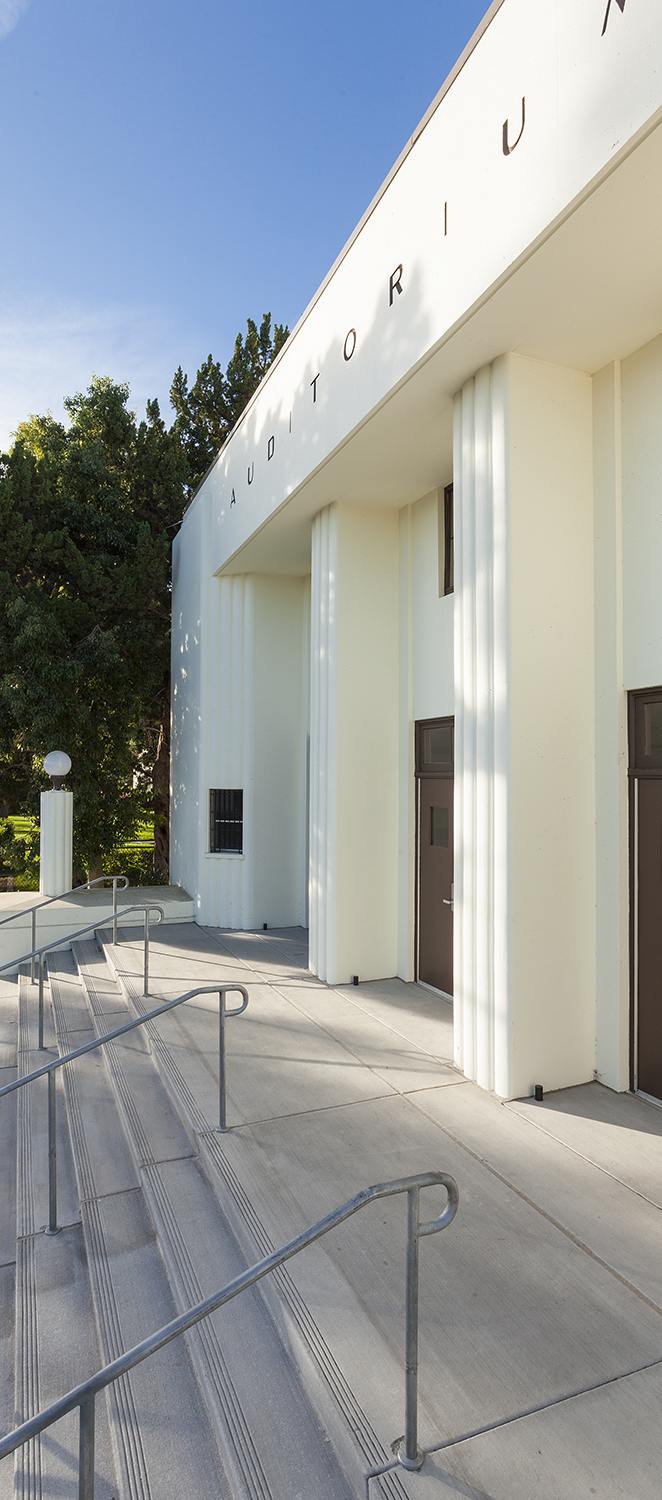 The Newhall Family Theatre is ready for it's curtain call.
First built in 1925, as one of the first buildings for the Newhall Grammar School, the Newhall Auditorium served as one of the larger public meeting places located in the Santa Clarita Valley through the 1930's. There are stories that silent film star and local celebrity, William S. Hart used to show his films in the auditorium for the local children. In February 1939, the original auditorium burned down in the Valentine's Day fire. For the next year the community raised funds to re-build the auditorium, with construction completing in 1941.
Over the next 30 years, the Newhall Auditorium serves as a place for children to learn and perform while allowing the community a place venue for special occasions and performances. With the growing population of the Santa Clarita Valley, the need for more schools began to take precedence. In 1975, the cherished Newhall Auditorium is converted into a warehouse to allow the Newhall School District access to funds for building new schools. The next 30 years saw the auditorium used in this capacity.
Like much of the Santa Clarita and San Fernando Valley, the Northridge Earthquake of 1994 did damage to the existing structure of the Newhall Auditorium. In the late 1990's there began a quest to restore the building to its former glory and allow a new generation to experience the performing arts in Newhall. The Theatre Arts for Children Foundation was formed to raise the funds and begin the process of restoring the building. However, the cost of removing hazardous material and compliance with the Americans with Disabilities Act caused the project total to exceed their initial budget.
In 2011 the Newhall School District's Governing Board proposed a bond measure that would bring funds for restoration and renovation to the district. This included repair/replace deteriorated roofs, upgrading classrooms, science labs, libraries, and improve energy efficiency. It also included funds for the restoration of the Newhall Auditorium
The official ground breaking ceremony took place on Friday, March 4 2016. After sitting dormant for 40 years, the Newhall Family Theatre for the Performing Arts is ready for performances. Keeping with an art deco inspiration of the venue that opened in 1941 including the original proscenium, the theatre is updated with state of the art lighting and sound equipment, over 500 seats and a projection screen. Finally, there is a space dedicated to the children to learn and enjoy all aspects of the performing arts.