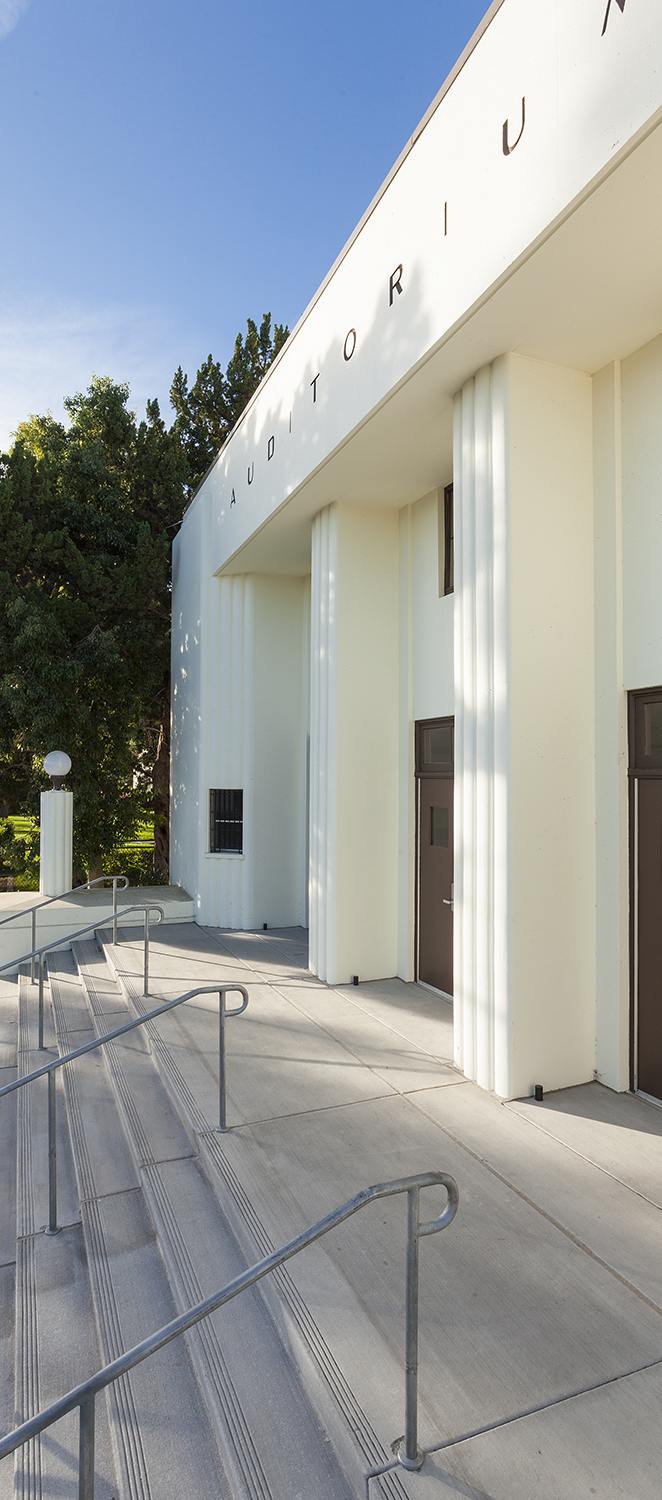 Raising the Curtain on the Newhall Family Theatre
Built in 1925, the Newhall Grammar School had an auditorium that served as a gathering space for the growing community. Silent film cowboy and local resident William S. Hart used to show his movies in the theater to audiences of delighted children. But in 1939, a fire of mysterious origin brought down the house. With the support of the community, who collected donations, and the federal Works Progress Administration, the Newhall Auditorium was rebuilt in Art Deco style and reopened in 1941.
The auditorium became a place for children to learn and perform; graduations were held, and community members used it as a place for special occasions and celebrations. It was the only elementary school with such a performance space; schools built after 1940 were given multipurpose rooms that allowed for a variety of uses that didn't always involve an audience.
As the population of the Santa Clarita Valley grew, the demand for classroom space increased and the need for more schools took precedence. In 1975, the auditorium was converted into a warehouse, freeing up funds to build more schools. But in 1994, after the Northridge earthquake, the space was re-discovered and work began anew to restore its former glory and give a new generation of students a chance to experience the performing arts in Newhall.
The group Theatre Arts for Children was formed to raise funds and began the process of restoring the building, but the cost of removing hazardous material and compliance with the Americans with Disabilities Act caused the project total to exceed their budget.
In 2011, the Newhall School District's Governing Board proposed a bond measure that would raise funds for restoration and renovation to the district. The measure passed and, along with many other improvements to district schools, there was also funding for the restoration of the Newhall Auditorium.
The official groundbreaking ceremony was held in March 2016 and work began in earnest. The restoration was done holding fast to the WPA's Art Deco motif. The theater, which maintains the original proscenium, has been updated with state-of-the-art lighting and sound equipment, more than 500 seats and a projection screen. Christened the Newhall Family Theatre for the Performing Arts, the auditorium opened in October 2017 with the first community organizations using the venue in March 2018.
When the Covid-19 pandemic hit in 2020, the theater went dark, along with performance spaces around the world. After a year and a half of being closed, it re-opened once again in October 2021 with A Celebration of the Performing Arts, a community event featuring workshops for children and a showcase of local talents performing music, dance, theatre, spoken word and comedy, bringing a historic and treasured performance space back to life.